What does Cancer Insurance Cover?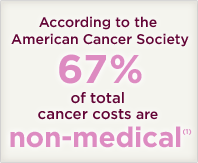 Based on the provider and policy details, coverage varies, but most plans cover both medical and non-medical expenses. Medical expenses can include co-pays, extended hospital stays, medical tests, procedures (such as stem cell transplants), other disease specific treatments, and more. Non-medical expenses can include dietary restriction aids, home health care, child care expenses, and loss of income benefits.
It is important that you understand what is covered in the policy before purchasing a cancer insurance plan. Also, comparing your current health insurance plan will allow you to determine if you need to purchase a cancer insurance policy to fill the gaps.
Choosing a policy that is right for you…
At Benefit Options 4 U, we take a look at your situation and do all the hard work to find options that will suit your needs. Give us a call today to schedule a consultation! (206) 930-3018.
(1) American Cancer Society Facts & Figures, 2007